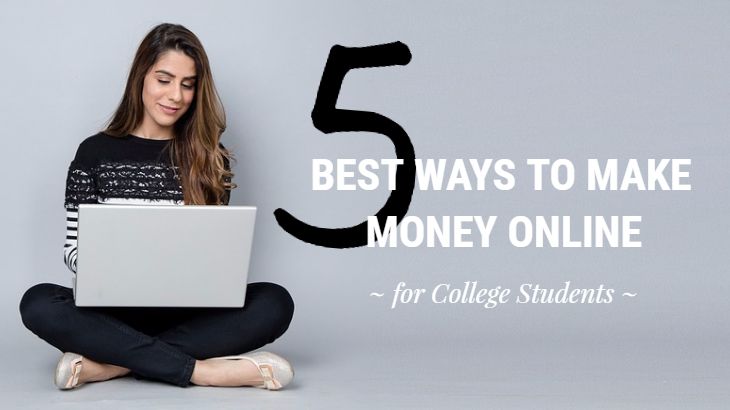 10 Best & Easy Ways to Make Money as College Student As college student it's best to work on hourly basis: you can work on own schedule. You'll have enough time for studies, rest and leisure by working hourly.
These days there are several options for starting an online business, which if executed well can generate a handsome income and fast track your financial independence.
During my college days, making extra money would mean finding odd jobs on campus or working for some nearby business such as store.
You Will Know :
1. Deliver for Postmates (Average Pay $21/ hour)
Design and build an attractive but easy-to-use website.
Write compelling copy that attracts potential customers/buyers.
Leverage popular search engines & SM platforms to drive traffic to your site.
Work on establishing an expert reputation for yourself.
Regularly follow up with your customers and subscribers via email.
Increase your income through back-end sales and upselling.
1. Deliver for Postmates (Average Pay $21/ hour)
You need not own a car or bike to deliver for Postmates. The company says it has America's largest on-demand fleet of over 200,000 Postmates or delivery agents. You can walk, ride public transport, use own vehicle or take a cab to deliver for Postmates. It's your choice. Postmates delivers everything from food to expensive goods sold by local businesses to large stores and foreign companies. Hence, you also get to choose what to deliver. The company welcomes students that want to make money. Register online on Postmates.com, fill in your details and get the welcome kit free instantly.

2. Work with Care (Average Pay $20/ hour)
If you have a way with kids and elderly, work with Care. Literally. Care.com looks for college students and others that can spend some time as babysitters, playing with toddlers, caring for persons with special needs and elderly as well as pet care. They also provide jobs as tutors for private lessons, housekeeping, running errands and other odd tasks. To make money in college, select the type of work you'd love to do and complete their simple registration process. The company screens all its part-time job applicants to check if they suit the role. Or you can directly visit their 'Careers' section and apply for job. Care is one of the largest network of caregivers and other services. It operates in more than 20 countries and has nearly 33 million members.

3. College Jobs at Lockheed Martin (Average Pay $22/ hour)
Imagine a part time job as college student where you get loads of benefits other than flexible working hours and good hourly pay? I mean benefits including student loan refinancing, on-site health and wellness report, employee assistance. And, an opportunity to start working with one of the biggest companies of the world? Sounds interesting? Look for college student jobs at Lockheed Martin Corporation, a global aerospace, defence, security and advanced technology corporations of America. Lockheed Martin offers college jobs at locations across the US where the company has presence. Their jobs to make money in college are for almost everyone and not just aerospace or technology students. You can apply for one today.

4. Federal Interns of US Government (Average Pay $13/ hour)
Fed jobs for students? Yes, I'm not kidding. The American government's Students Temporary Employment Program (STEP) allows you to get part-time jobs for students too. You will join any department or office of the American government as intern. What's more? You also get some of the benefits that federal employees enjoy. Some- not all- and this would depend upon where you get internship. Obviously, the government requires people across America. This means, you can find paid internship within your area. STEP is an excellent way to make money in college. But above that, STEP also provides you necessary training and skills to become a federal employee upon graduation. One of the purposes of STEP is to train tomorrow's federal employees. And they begin with college students. Grab this opportunity if you wish to make a federal career with the American government. But watch out: there's lots of competition for these internship. Means, you need to be really good to American government employment standards.

5. Make Money in College with Chegg (Average Pay $21/ hour)
Share your knowledge or rent your textbooks on Chegg to make money in college. That's one of the easiest ways. Check the list of what interests you on Chegg. They have a lot of categories where you can help as college student. Help junior students with homework or provide private tutoring in some subject. If you have excellent English or Math skills, it's possible to earn more: you can get foreign students too. Register online on Chegg and start providing your skills. It is one of the fastest ways to make money as college student. Since Chegg provides part-time work only, you get to select working hours. This leaves ample time for other activities, including While blogging will earn you some money in college, it can become an excellent life-long source of income too, if you decide to continue. A blog also helps make money in college through affiliate marketing. This means, you promote someone else's stuff through your blog. You get commission whenever anyone buys something using a link for the stuff on your blog. Amazon, the world's largest online store has a superb affiliate marketing program you can join for free and make money in college.

7. Party DJ & MC (Average Pay $18/ hour)
Love parties and know how to get people dancing? Then you can easily work as party DJ and MC. Play latest music, crack jokes and help people have fun with your skills. And also enjoy the party. Nowadays, it's not just restaurants, clubs and bars that need DJs and MCs: individuals, families and small businesses also need DJs and MCs for various events. You can find several party DJ and MC jobs online. Event companies also hire college students for these roles. For working as part-time DJ and MC at restaurants, bars and clubs however, you would have to check local laws. There are certain age restrictions under American labour laws for working at places where alcohol is served or there are chances of violent behaviour.